Shizu Okusa of Apothékary
on How Food, Sleep, and
Feelings are Medicine

In honor of Women's History Month, we're shining a light on women-owned businesses we admire.
We were fortunate enough to sit down and chat with Shizu Okusa, founder and CEO of Apothékary. Former Wall Street banker turned wellness entrepreneur, Shizu turned to Ayurveda and adaptogens to develop a holistic approach to health and self-care. To conquer stress, sleep, and skin—Shizu developed Apothékary to hack the system and elevate our daily wellness routines using food as medicine.
For the rest of this month, Apothékary is donating 10% of their profits to Asian Americans Advancing Justice - an organization that fights to empower and support the civil rights of Asian Americans, to create a more just America for all. Read Shizu's full message to the community here.
Let's start with the basics. Tell us your story.
Sure! My name is Shizu like she-went-to-the-zoo (..it's even better when I say that in-person) and I was born and raised in Vancouver, British Columbia -- yes, I'm Canadian, Japanese and American! My Dad is from a suburb outside of Tokyo and my Mom from Osaka. They met in Vancouver when they both separately immigrated from Japan, and I'm the youngest of three.
My family was traditional. Now, when I say traditional I mean growing-your-own-food-and-making-your-own-bowls traditional. My Dad was a farmer and nursery owner so we had a farm that we'd grow most if not all of the food on the table (outside of meat). My Mom was, and still is, a potter so we have her ceramics all over the house. I think my flower vase is also one of her oversized cups!  
My parents were immigrants and worked really hard to get us girls through school so we could focus on our studies. They only wanted the best for us—get a stable job in finance, get married early, have kids, etc...but that turned out very different for me at least .
What was the transition from Wall Street to wellness like for you?
Short answer: Not easy, messy, and a bit isolating. I had to reinvent and start all over.
Long answer: I left my Wall Street trading job at Goldman Sachs and took a year off to re-center and get my Ayurveda herbal and yoga teacher training. I was curious about the intersection of wellness, spirituality, and business. How does one do well, and do good, sustainably?
I started building my first company, I wanted to create healthy unadulterated drinks, full of vitamins and nutrients that would nourish busy people on the go. I sold the company in 2019 but that ethos and passion of bringing wellness to the masses has not changed. If anything, it's grown and strengthened with Apothékary. I realized there were other health issues I was facing (acne, hormonal fluctuations, stress, sleep) that fruits & vegetables alone couldn't fix.
But in that transition, rather than reinventing myself, I reinvested in myself.
How did your background and upbringing shape your experience with herbal medicine?
Growing up my parents never gave us medicine. I think my Mom would have rather seen me sleep for days than give me an Advil. Instead, my parents saw food as medicine—lots of mushrooms (shiitake, maitake, matsutake), broths that steep in wakame (seaweed) for days, and flavors that come from only natural yet potent ingredients.
Our first point of medication was always in natural forms like Reishi or Chaga Mushrooms brewed in stone pots, and if I'm being honest, I hated the taste. I think that's why herbal medicine has taken a long time to get to where it is today and so when I created the business, I made sure our blends were as delicious as possible without any additives, sugars, or preservatives—which is hard to do. It took 18 months!
Well worth the time spent - I remember first trying your blends and was taken aback when I read the label, and the ingredients were so pure. What has been surprising to you about your journey in this space?
I think the most surprising thing amidst all of this growth is how easy people think it is to run a business, whether it's e-commerce, retail, fitness, your own influencer platform, etc. It's incredibly HARD. We often compare our behind the scenes to others' highlight reels and I have to continually remind myself not to fall into that trap. It's important to hold your "why" as a North Star and make sure you have a true passion for the space—otherwise it won't be enough to carry you through the highs and lows that come with running a business.
If you could go back in time and give younger Shizu any piece of advice, what would it be?
Things happen for you, not to you.  
It's hard not to be crushed or overwhelmed when life throws challenges your way. I've certainly felt that way multiple times, like when I was selling my first company, and at the same time raising funding and scaling Apothékary. It was not a smooth transition. I felt like I failed my team then, but I'm so glad I held on and kept a community of like-minded founders around me to provide advice and support. It helped diffuse that moment and power me to move onwards and upwards.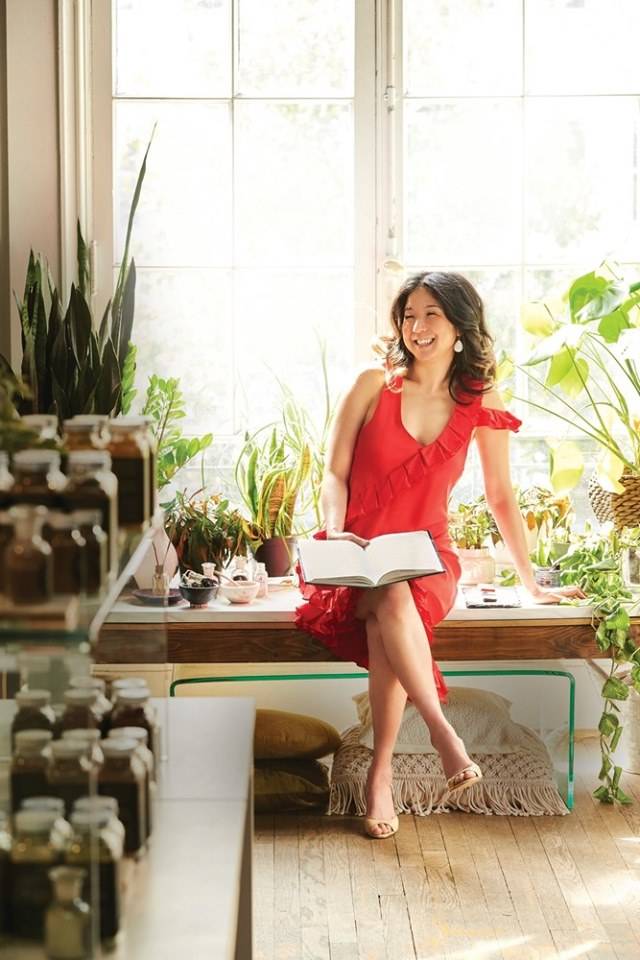 If you could have a conversation with Shizu 20 years from now, what would you want to know?
The first and second arrow.
The first arrow is when we are stressed, it can often show up in the form of anger or pushing people away.
The second arrow is when we shoot the arrow back at ourselves in the form of guilt or shame for shooting the first arrow.  
It's already hard enough to not shoot the first arrow but there's really no point in shooting the second. Guilt and shame need to be rechanneled into productive feelings like growth and action.
What are three things that have helped (and continue to help) you get through quarantine?
One: Letting myself feel. I've learned how one feels is not equivalent to who one is. It's important to differentiate how you're feeling in a moment vs. letting that own you as an actual trait of who you are as a person. Feeling unworthy is far from the actual truth of being unworthy. Now I look back [on times of distress] to say that it was all a blessing, and I made some amazing connections going through that process.
Two: Resiliency without letting it harden you. People say that all the time but I believe resiliency is what makes you stronger. However, one thing I don't think is talked about enough is that sometimes too many hard moments (a byproduct of entrepreneurship, really) can make somebody jaded and guarded.
I don't know if we can truly celebrate the highs without feeling the lows but it's EXACTLY those heightened feelings that makes one more empathetic to life, people, and the small wins worth celebrating.
Three: Being patiently aggressive. This one is truly a work in progress. As a second-time founder, they say there are two main weaknesses -- one is impatience, and the other is blind spots. I deal with the latter by surrounding myself with an amazing team and personal Board of Directors, where I encourage them to call me out or slow down if I'm going too fast for my own (and my company's) good.  
"Being patiently aggressive" - another tidbit of wisdom from you that I will have to keep in my back pocket. On the topic of Apothékary rapidly growing what can we expect to see next?
Ohhh we have a PACKED 2021! We're expanding from not just herbal blends that you consume, but also into blends you can apply topically into your beauty routine. I believe the better your skincare routine, less makeup you need.
What is your astrology sign and do you feel connected to it?
Ha, how timely! I actually just did my first tarot card reading and we went through my sign too. I'm a Scorpio to a T, so being fiery, passionate, and creative are key attributes of who I am, and are very very true - both good and bad. I am a big feeler versus thinker so when something good or bad happens, it's a total mind-body sensation. Especially with quarantine and WFH, I definitely found myself with roller coaster highs and lows, but am actively trying to channel that energy into my creative and business pursuits.
Ok, last one. What is your most favorite wellness hack that not enough people know about?
Sleep… prioritize it. I think sleep is the best investment in yourself and others. "I'm so tired" on repeat is not cool for you or anyone around you.
---