Real Talk with Dehiya Beauty Founder Dr. Mia Reddy
Every once in a while, you are introduced to a person, a product, a brand, an idea, that changes the game for you. For us, it was immediately apparent when we were introduced to Dehiya Beauty and the team behind it, that there was something really special about the mission and the people.
Dehiya is a plant-based, all-natural, vegan skincare line influenced by Moroccan folk beauty and modern women. After living abroad and studying under a 4th generation Moroccan herbalist, Dr. Mia Reddy was inspired to create a skincare line that celebrated global and time-honored beauty traditions. And thus, Dr. Mia Reddy founded Dehiya. She describes it as a nod to grandma's thoughtful skincare ritual, a conjuring of ancestral beauty secrets and a return to simple beauty. Dr. Mia Reddy champions diverse and inclusive beauty using ethically sourced and highly-active wild and botanical ingredients from all over the world. Through the combination of modern skin care practices and time-honored beauty rituals, Dehiya's goal is to uncomplicate skin care routines for women everywhere.
We were fortunate enough to interview Dr. Mia Reddy and hear her story, what inspires her, and how she is disrupting the beauty and wellness space.

Tell us a little bit about who you are.
Wow, that should be easy to answer right? Why was the first thing I thought—"I'm a mom?" I guess I see myself in that identity first. It informs my standards for myself personally and the type of business I run. But at the core, I'm a writer, a researcher, a storyteller. I love to create beautiful things. I'm also an entrepreneur though I've been slower to embrace that title. My husband is a newly retired Naval Officer and we live in San Diego, California with our two boys.
How did Dehiya come to be?
I went to university to become a fashion designer and ended up falling in love with literature. I majored in African American Studies in undergrad and American Studies post-grad. I thought I was going to be a university professor, write books, and teach kids about Black culture. Life had other plans. My husband is a Naval Officer and in 2014, we had the opportunity to live in Italy for a few years. While there, we traveled all over Europe & Northern Africa. Morocco had always been on my bucket list and when I was doing the research, I read so much about their beauty and wellness practices and was really excited to experience some of that. On one of our trips there, I met who I now refer to as The Herbalist. We met in the Jewish Quarter of Marrakech when I wandered into his pharmacy. He is a 4th generation herbalist whose family has owned a pharmacy for over a century. They were the first Muslim business to move into the Jewish Quarter. There is such a rich history and he shared it all with me. Over the course of a couple years, he taught me so much about herbology, Moroccan native and wild plants, and Morocco's ancient beauty rituals. I returned to the States at the end of 2017, started Dehiya in 2019, and the rest is still being written.
Dehiya has an emphasis on inclusive and global beauty. Can you tell us a little bit about what this means to you?
Growing up as a black-and-Korean girl in the Midwest with adoptive white parents shaped my whole identity and life path. I was the ONLY person of color in school. I grew up feeling really othered and less-than. So much of my self-worth was tied to my beauty (or lack thereof according to the kids I grew up with).
By the time I was thinking about founding a beauty brand, I was in the thick of my wellness journey and saw very few women in the wellness space who looked like me; even fewer in the green beauty segment. It was important to me that Dehiya be for everyone. I wanted to offer products that lend to global awareness, diversity and inclusion on the beauty landscape.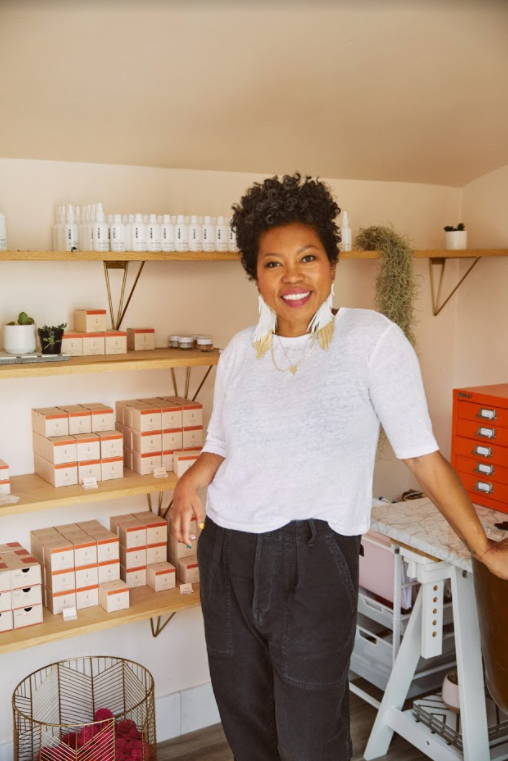 You source ingredients from all over the world. How do you honor the traditions and cultures of these ingredients and rituals?
Dehiya's namesake was one of the most powerful warriors in Northern Africa. She ruled an Amazigh free state in the 8th century and led her people in the resistance against colonization, and remains historically relevant and serves as an inspiration to women throughout Northern Africa. When we talk about natural and whole plant beauty, there is little credit given to enslaved African herbalists, healers, doulas, and witch-doctors who shared their knowledge throughout the African Diaspora. I wanted to celebrate some of these ancient practices and include them in the narrative.
After living abroad immersed in the different beauty cultures, I knew I wanted to share the traditions and practices of Morocco specifically and to do it in a beautiful, meaningful way. My academic background in ethnography – the study of cultural groups – guides the way I present the products. Not being Moroccan myself, I have a responsibility to honor the history and tell the story accurately. I get The Herbalist's input on any copy regarding anything Morocco because my biggest fear is to misrepresent the culture.
You are a decorated academic, with a Ph.D. in American Studies. Has this informed your career path and business at all? If so, how?
Why, thank you! I would say my Ph.D. background informs our ethos and brand identity at every level. I see our beauty products as the vehicle for facilitating a more in-depth conversation around topics of female identity as a whole–intersectionality and inclusion, beauty myths and standards, and female sexuality and representation. Women of color have been left out of the green beauty conversation. The products are the catalyst to initiating thoughtful conversation about whole plant wellness, its history in Africa, the culture, and the community.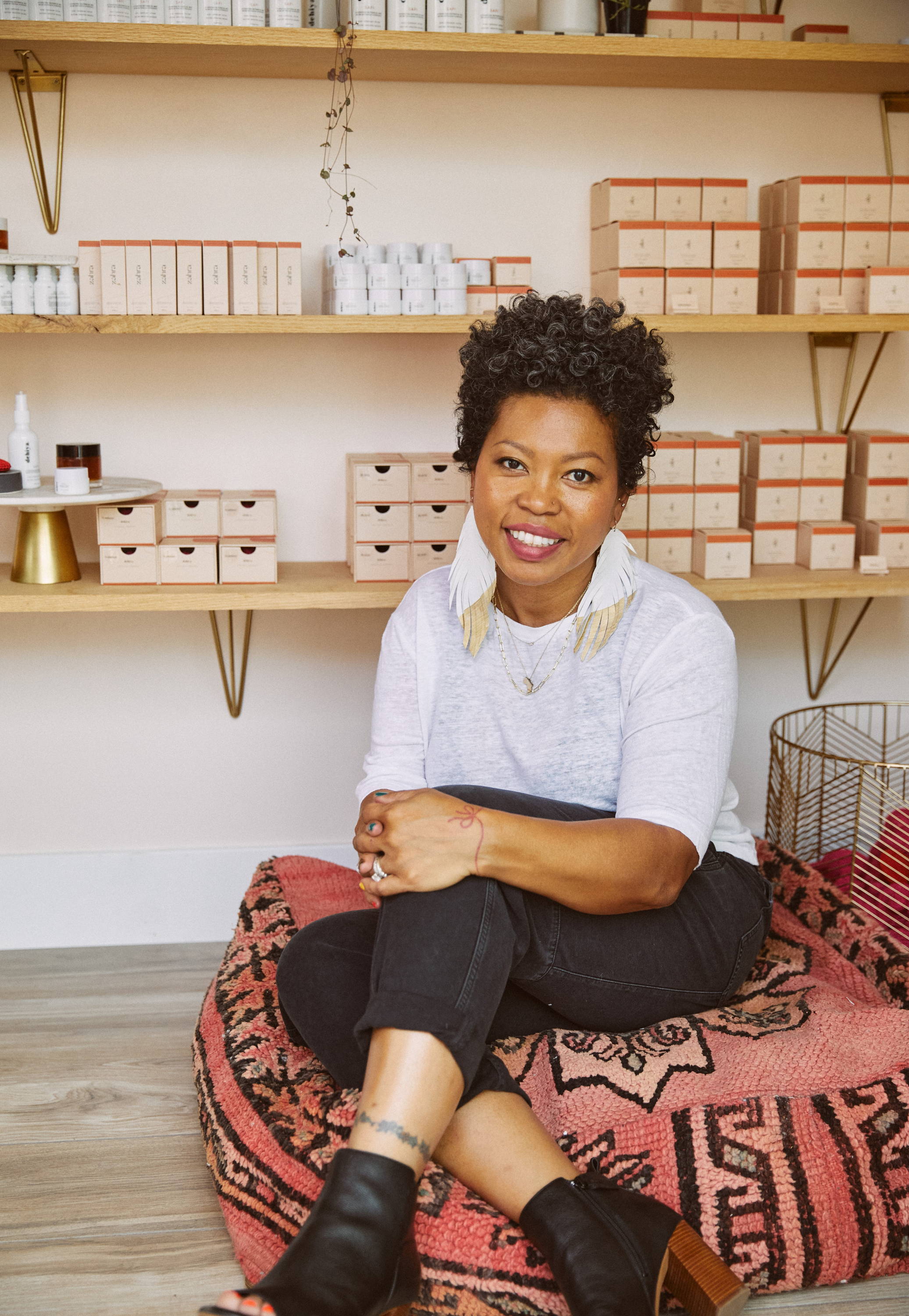 Your Ph.D. earned you expertise in the exploration of Brown girlhood and womanhood, identity formation, sexuality, and finding the power and beauty in that identity. (Wow.) What are some of the major takeaways you've gleaned from this study?
I love this question so much. I honestly don't think anyone has ever really asked me that. In my work, I looked at the processes of Black and Brown women coming of age through the lens of Hip Hop culture. I wanted to know how growing up in the 1980s and 90s during the crack epidemic, welfare reform, Reaganomics, misogyny, etc. informed the ways in which Black and Brown girls became women. One of the biggest takeaways is that we are always on a journey of self-discovery and more importantly, self-creation. Part of that journey is sharing our stories because 1) it's cathartic 2) documenting our stories is crucial to historical preservation, and 3) we create human connection.
What are some things you wish everyone knew and understood about these topics?
I think it is crucial to understand the importance for Black women to be able share powerful and endearing stories about their experiences that are not solely focused on heterosexual romance. We are nuanced and multi-dimensional people. Community and sisterhood are concepts that are important to women as a whole but necessary to Black women's survival. We need to honor that.
How has your experience as a Black woman influenced your experience in business and wellness, which is notoriously considered a white-dominated space?
Thank you for asking this! Like you said, historically, green beauty and wellness have been predominantly white, privileged spaces, so when it came to creating a conscious, plant-based beauty line, it was equally important for me to take a critical look at diversity.
I mean, let's be real—the long-standing definition of beauty we've been shown is so narrow; the story is incomplete. Why are we just starting to normalize the representation of Black, Brown and Asian faces? Sadly, it took monumental historical, tragic events to initiate the conversation in any meaningful way. Beauty and wellness may seem superficial but just by me and brands like ours existing — it becomes protest and oftentimes, political for many of us. Our goal with Dehiya is to disrupt the current beauty narrative, explore alternative ways to see beauty, and ultimately create a fuller, more comprehensive story while serving up high-performing, plant-based skin rooted in African tradition.
Real talk: What are your thoughts on the wellness industry today? What shifts have you noticed since joining the game (good and/or bad)?
I love seeing health and wellness become so accessible. Also, like we just discussed, we're seeing a huge move to prioritize inclusivity – Asian, Black and Latino, LGTBQ+, people with disabilities – which is so overdue. I don't want to end with negativity so I'll start by saying, I just worry about the ways in which it is all executed. We saw so many performative gestures from brands last summer in regards to Black Lives Matter and a lot of folks trying to capitalize on Black bodies. But on the flip-side, there are so many amazing companies out there doing it right (or doing their damndest to figure it out). It may seem like I'm getting off topic but I think this is really important to say. Last summer when The Class reached out to talk about partnership, we were inundated with emails from retailers and I personally went through each email and chose potential partnerships based on my gut feelings, not my business mind. I have been a fan of Taryn and The Class for years and love watching how The Class has evolved over the years. We received a couple emails that were complete templates and didn't even remember to change to whom the email was addressed. When I read your email, I loved Taryn and The Class even more! It just felt good. The relationship has been genuine and synergistic. That is definitely one of the things I'm loving about where the industry is going — it is being driven by socially driven brands and conscious consumers.
We are so touched to hear that. And the feelings are very much mutual! We are so inspired by you and Dehiya. How can everyone jump on the Dehiya train and embrace ritualistic, inclusive self-care and beauty?
We are loving the gua sha facial massage as our self-care ritual right now. You can find one of our most coveted tools, The Warrior Stone gua sha board on The Class Shop. Paired with Zahra Botanical Oil, it's just a matter of what kind of experience you want to have. I love the stone for everything from releasing jaw and sinus pressure, clearing toxins to plain ol' massage. You can learn more about our products and how to use them by visiting dehiyabeauty.com and/or following us @dehiyabeauty on Instagram.
What is your personal favorite beauty hack or ritual?
My personal favorite beauty hack is The Mihakka. It is our cleansing and exfoliating tool based on 12 centuries of North African tradition. It's so simple – sun-dried clay wrapped in organic, pigment-dyed cotton crocheted by Amazigh women outside Marrakech, Morocco. You just wet it and apply your cleanser to the flat side of the tool to gently cleanse and exfoliate the skin in one step. It's a multi-functional whiz – you can also use it to dry exfoliate bikini lines, pre-shave or remove dead skin from heels, elbows, etc. and it's a beautiful conversation piece on your bathroom counter.
We are pretty much obsessed with The Mihakka tool too. There's nothing quite like it. Last one… What is your astrology sign? Do you feel connected to it?  
I'm a Pisces and I feel it in my BONES. When you asked me to tell you a bit about who I am, I should have led with that. I even have a tattoo to prove I'm a ride-or-die Pisces. I'm a dreamer, I'm indecisive, I'm creative, and I feel a strong connection to the water. I'm also an empath and really have to protect my energy because I take everything in. As fellow Pisces Erykah Badu says, "I'm an artist and I'm sensitive about my shit."
---